Spanakotiropita – Try saying that 5 times really fast. I will use any excuse to make this appetizer – Christmas? Easter? New job? New car? Ran 5km? Finished the housework? Literally, any excuse. I mean, tell me something better than biting into a flaky, buttery pastry filled with spinach and feta cheese? If you close your eyes while chewing you can even feel like your sitting on a patio in Santorini (and I am pretty sure that is something we could all use right now). AND if you ignore the amount of butter used in creating these beautiful triangles, you can even convince yourself that they are suuuper healthy (Hello, there's spinach!!). Us Greek people know what we are doing when it comes to lamb, butter, and feta cheese. There's something about rich, heavy foods that gets our blood flowing extra fast – and this is one recipe that does just that.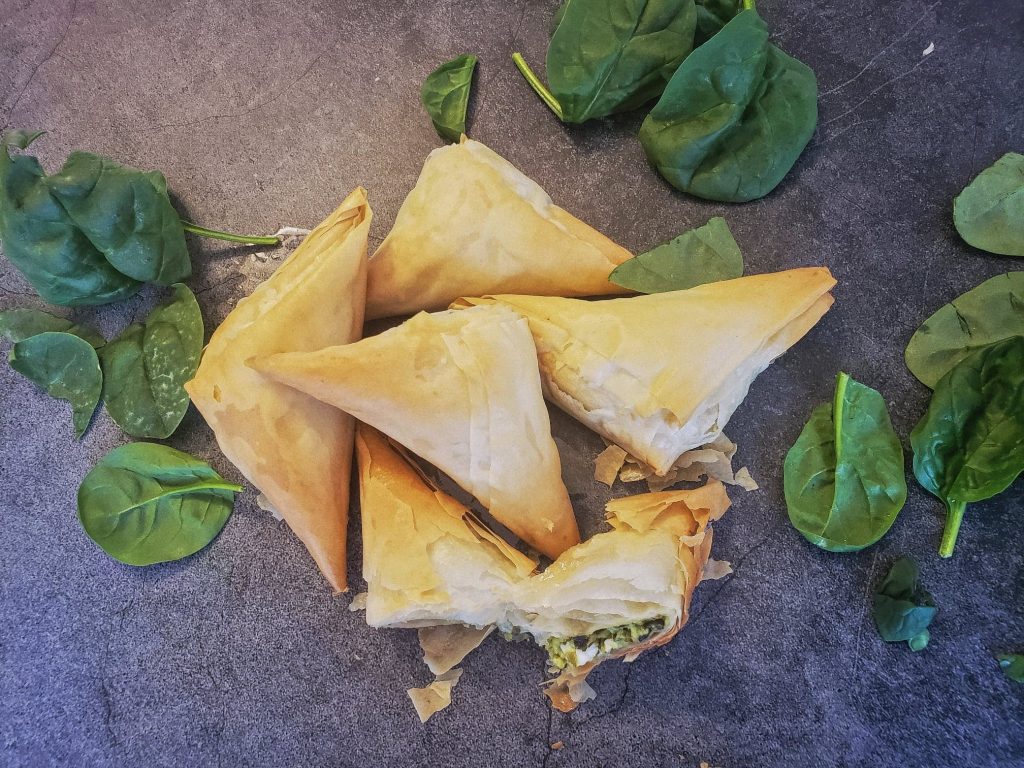 This recipe will be your secret weapon for impressing anybody and everybody. It's the perfect balance of buttery, salty, cheese-y, spinach-y deliciousness. It is also a great way to bond with family and/or friends since everyone can help fold the triangles. I remember for my graduation party we had a whole assembly line going, making over 5 dozen of these!!
This recipe makes about 36 triangles which is the perfect amount to bring to a potluck or dinner party because if you're like me, you're eating about 10 before hand so reeeeally you're only bringing about 26. I hope you enjoy this secret family recipe as much as I do!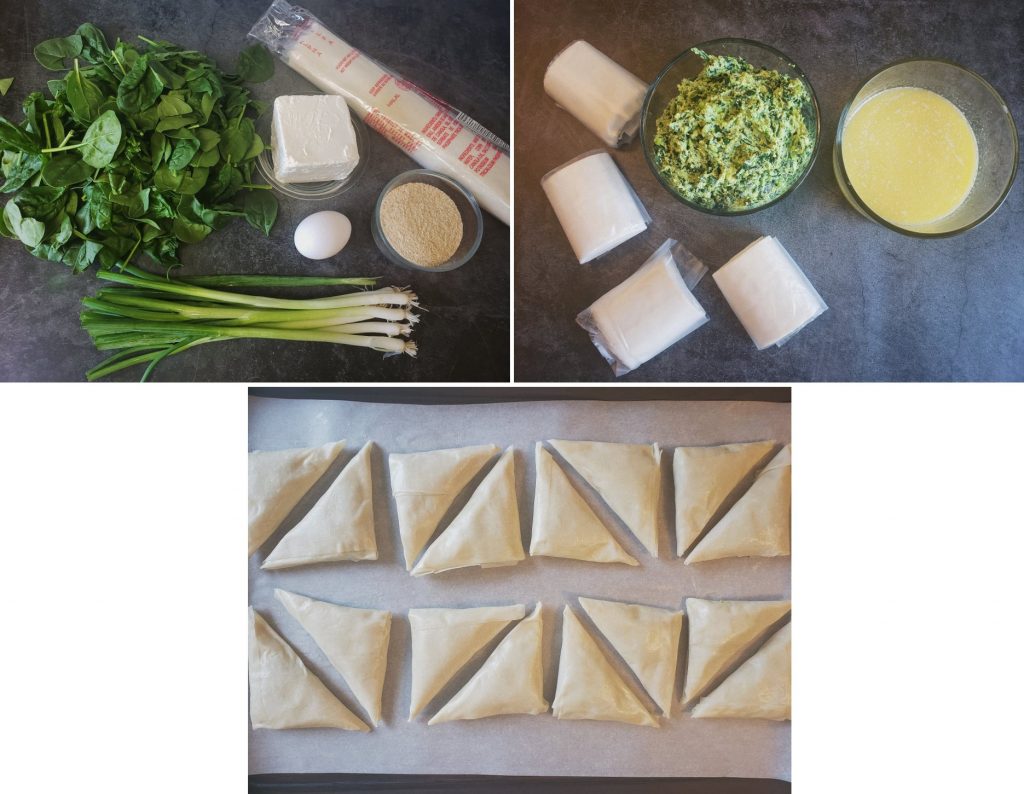 Cheers!
xx Vassilia  
The Best Spanakotiropita
Course: Appetizers
Ingredients
1 package phyllo dough

200g baby spinach

1 bunch green onions, sliced

300g feta cheese (half Macedonia feta, half Greek feta)

¼ cup canola oil

½ cup breadcrumbs

1 egg

½ lb unsalted butter, melted

2 tbls olive oil

Salt and pepper to season
Directions
For the Filling
Soak and wash spinach in the sink or deep dish with some salt. Pluck off stems if desired. Dry in a salad spinner.
Thinly slice green onions and set aside.
In a large bowl, place the spinach and begin to rip leaves into tiny pieces.
Add the green onions, feta cheese, egg, canola oil, breadcrumbs and a pinch of salt and pepper to spinach and mix. Mixture should be moist.
Forming the Triangle Pies
Preheat oven to 375°
Take the ready-made phyllo dough and cut into 4 even sections.
Mix the melted butter and olive oil together in a bowl.
Take one sheet of phyllo dough and brush with the butter and olive oil mixture. Immediately place another sheet on top and brush with butter and olive oil mixture.
Add 1 tsp of the spinach mixture in the corner and fold the phyllo dough into a triangle.
Brush triangle with butter and olive oil mixture on all sides and place on a lined baking sheet.
Repeat until all the phyllo dough is finished.
Bake for 25-30 min until golden. Cool for 5 minutes and serve.
Notes
These can be reheated in the oven at 350 for 15 minutes