Visiting my yiayia was the best.  She grew up in the middle east, so a lot of the flavours in her food were inspired by that culture. My family always says that we are Greek with a Middle Eastern twist. At her house, there was always, ALWAYS something to eat whether it was simple like zaatar on pita bread (did I mention middle eastern yet?) or more complex like pan fried pork chops in a mushroom sauce. She always made you feel welcomed, and what better way to do that than with food? She was the type of woman who always had a smile on her face and a warm hug (or a reality check) ready whenever you needed it. She was the heart of the family.

When I was a young girl she would always tell me that the only way I'd ever marry a handsome man is if I ate EVERYTHING on my plate…well here I am at 25 still clearing my entire plate and waiting for that handsome man – I'm coming to the realization that was just a way to make me eat everything.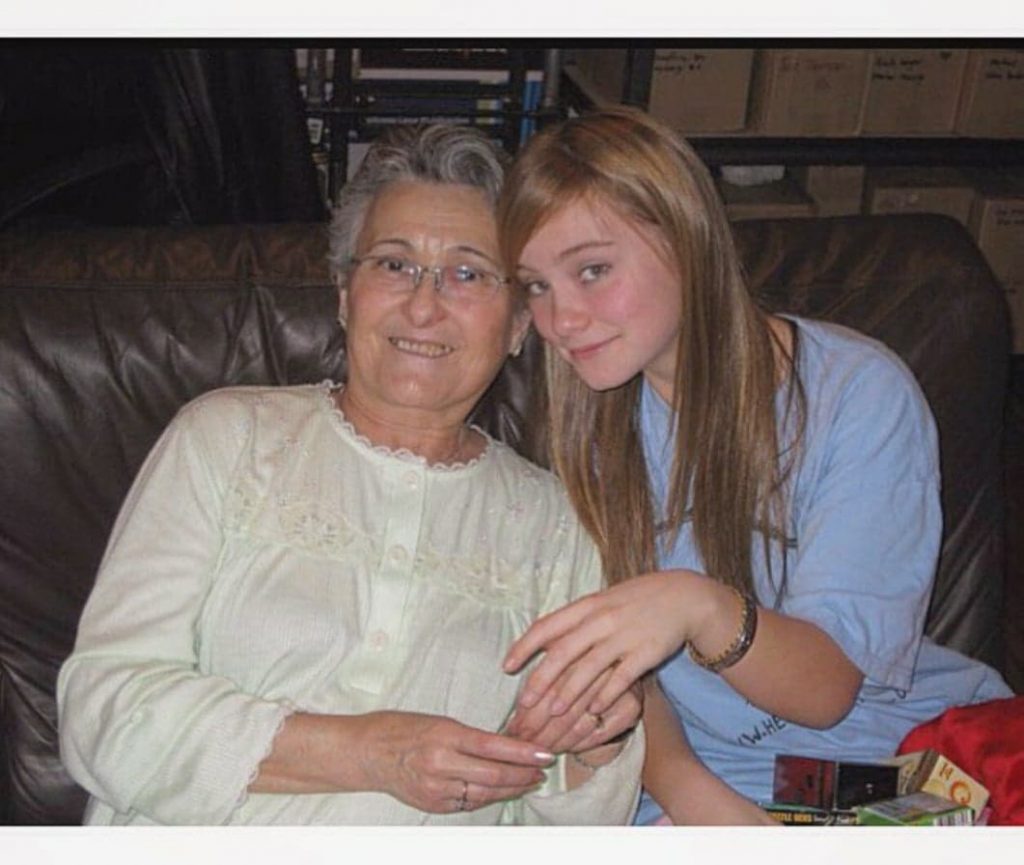 I think my love for food sprouted from her kitchen. I can still remember the smell of my yiayia's house when she was cooking up her meat sauce. It was my favourite smell in the world – onions and garlic, cinnamon and nutmeg. I just knew that I would be rolling out of her house later that night with a belly full of spaghetti and meat sauce (and a little leftover to take home with me). Cancer got the best of her, but what it didn't get were the fond memories and the great recipes!
This sauce is perfect for a cold winter day when you just want to feel hugged from the inside out or for a sunny summer day on the patio when you want to pretend you are on the Amalfi coast in Italy. It has a Mediterranean twist and includes my (not so) secret ingredient – cinnamon. My life motto is everything is better with butter, wine and cinnamon. It's perfect atop spaghetti or noodle of choice (not excluding zoodles!), in lasagna, or, honestly, any recipe that calls for a meat sauce. I hope you'll love this recipe as much as I do.

Cheers!
xx Vassilia
Mediterranean Meat Sauce and Spaghetti
Course: Mains
Ingredients
1 package dried spaghetti (or pasta noodle of choice)

1 lb ground beef

3 tbs olive oil

1 medium cooking onion, chopped

1 garlic clove, crushed

1/2 tsp ground all-spice

1/8 tsp freshly grated nutmeg (ground nutmeg works too)

2 tsp dried oregano

1 tsp dried thyme

1/2 tsp ground cinnamon

1/2 tsp smoked paprika

1 tsp sea salt

1 tsp ground pepper

1/4 tsp dried chili flakes (optional)

2 bay leaves

1/4 tsp sugar

1/2 can tomato paste

1 jar fresh tomato sauce or 1 can (28oz) crushed tomatoes

Optional: a sprinkle of Parmesan cheese for garnish
Directions
In a large pot over medium-high heat, heat the olive oil until it shimmers. Add the chopped onion and crushed garlic and stir until onions become translucent (approx. 3 min).
Add all-spice, nutmeg, oregano, thyme, cinnamon, smoked paprika, salt, pepper and chili flakes to the pot and cook the spices, allowing their aromas to release.
Add the tomato paste and stir.
Add the ground meat, stir and cook until browned.
Stir in the tomato sauce and add the sugar and bay leaves. Cover the pot and let simmer for 45 min-1 hour on low heat (the longer the better for a stronger flavour profile).
In a large pot, bring salted water to a boil. Add dried pasta and cook according to directions for al dente.
Once the sauce is ready, serve atop the pasta and finish off with a sprinkle of Parmesan cheese.
Notes
You can substitute the ground beef for any ground meat of choice.
You can also make this sauce with equal amounts of ground beef, ground pork and ground veal.