I've lived in the city for my entire life. So, you can imagine my surprise when my cousin who moved to the city from Windsor (small towns, am I right??) 5 years ago introduced me to this little gem in the heart of Toronto. And since that moment, I've been absolutely in love with this restaurant (seriously, ask any of my best friends and they will attest to this). It's definitely my favourite spot. Not only is the atmosphere incredibly chic and hip, the food is incredible. Best part is everything is made in-house!! Hands down the absolute best mushroom pasta in the city. The pasta noodles are freshly made and cooked to the most perfect al dente you've ever had in your life. The mushroom truffle cream sauce is to die for and perfectly coats each noodle. I would probably bathe in that sauce if I could…
Their grilled octopus is also life changing. It's served on a beautiful wooden board with four different sauces (lemon, olive, parsley and roasted red pepper) and some fingerling potatoes. The octopus is always tender and has the wonderful taste of the grill. Their pizza is delicious – always hot and fresh from the oven, the perfect thin crust which is crispy, yet light and fluffy in texture.
On a nice warm summer evening, you can definitely find me sitting on their patio sipping on their house wine which is $1 per ounce! You read that right! And it's actually so, so good. Feel like a 3oz glass? No problem. What about a 12oz glass? Also, no problem. And don't get me started on their Aperol Spritz. Nothing says summer vibes like an Aperol Spritz and they nail it every single time.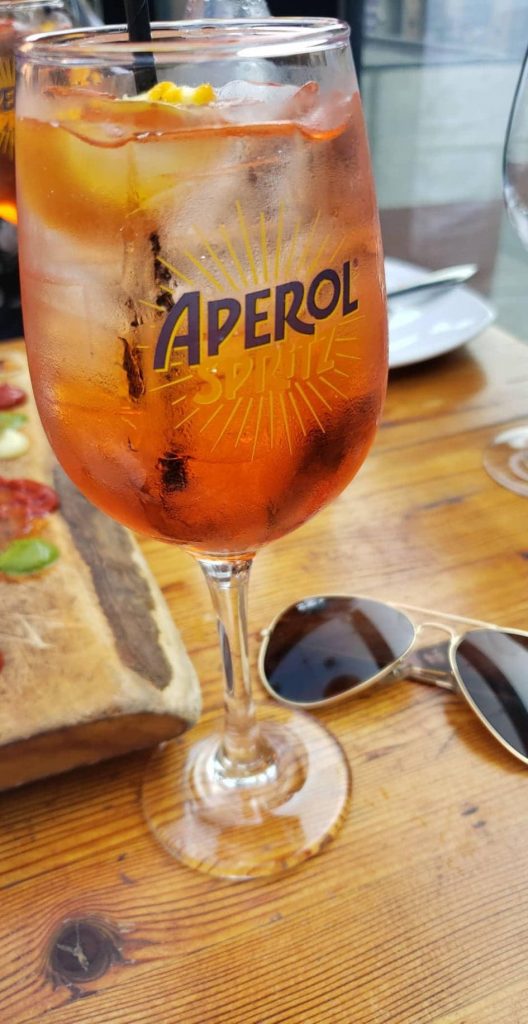 I can't say enough good things about Gusto 101, it's a spot for all occasions – birthdays, dates, girls nights, friday night with the boys, anniversaries…you name it! It's never a bad time at Gusto, you always leave full and happy. When you try this place, let me know your thoughts!

Cheers!
xx Vassilia