My aunt used to bake the worlds BEST chocolate-caramel chip cookies. I would eat about a dozen of them and then keel over and complain about the terrible stomach-ache afterwards. Unfortunately, she stopped cooking with sugar, so my favourite cookies ever were no longer being made. Thus, I had to find a substitute. Insert these bad boys. My favourite smell in the world (aside from onions and garlic) is freshly baked choco-nut cookies. What on Earth are choco-nut cookies you ask? Well they are the best combination of chocolate chip, peanut butter chip and pecan cookies EVER. Add in a splash of strong espresso and BAM.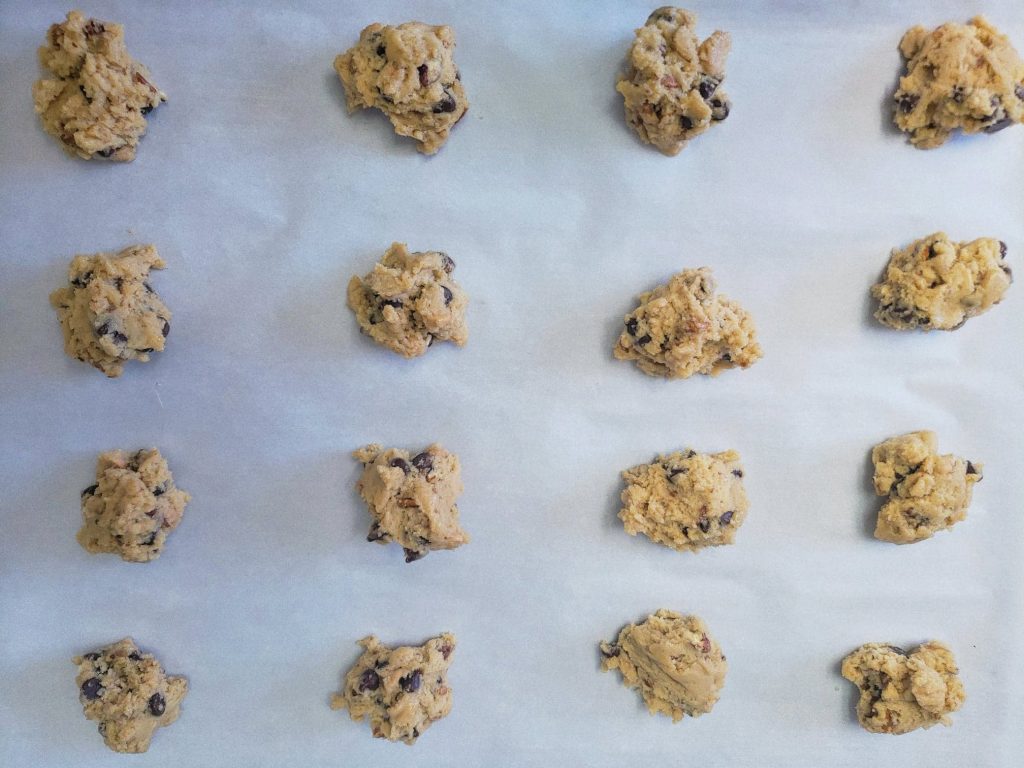 You see, one day I was baking classic chocolate chip cookies, but felt they were a bit boring and I wanted to spice them up… so I added my favourite flavour profiles to match chocolate: peanut butter, pecans, and coffee. These cookies are perfect for ANY occasion and are super easy to make. Once you try them, there is no turning back. People will be coming to you asking – no, BEGGING – for you to make these cookies again and again. So, sorry in advance.
Cheers!
xx Vassilia
Choco-Nut Cookies
Course: Dessert
Ingredients
1 ¼ cups flour

½ tsp baking soda

½ tsp salt

½ cup unsalted butter

½ cup packed golden brown sugar

¼ cup white sugar

1 large egg

1 tsp vanilla

¼ cup strong espresso, chilled

1 cup semi-sweet chocolate chip cookies

¼ cup peanut chips

½ cup chopped pecans
Directions
Preheat oven to 375°
Mix the flour, baking soda and salt in a bowl. Set aside.
In the bowl of a stand mixer, cream butter until pale in colour, light and fluffy (about 5 min).
Add the sugars to the creamed butter and mix until blended.
Add the egg, vanilla, and coffee. Mix until blended.
Slowly add the flour mixture. Mix until blended.
Stir in the the chocolate chips, peanut chips, and pecans.
Chill dough in fridge for 30 min. This dough can also be made the night before and kept in the fridge until ready to bake.
Scoop 1 tablespoon of cookie dough onto a parchment paper lined baking sheet.
Bake cookies for 11- 15 min, until golden on the edges (cook more or less depending on how hard or soft you like your cookies).

Remove from baking sheet and cool on cooling racks.