If you know anything about me, it is that I love a good glass of wine, anything with mushrooms and my absolute favourite brunch dish is Eggs Benedict. Now, I know there is some hesitation with eggs benedict – something about soggy bread? But the truth is, you've probably just never had a good eggs benny and I am very sorry about that. A good eggs benny is life changing. I know I say "life changing" a lot, but I am dead serious about it here. Nothing says "have a lovely day" like perfectly poached eggs, creamy buttery hollandaise sauce, perfectly cooked peameal bacon and toasty English muffins. Pair that with a delish mimosa and wow! Hello, Sunday Funday (way better than corned beef hash, IMO).
The key to a perfect eggs benny (and to avoid any soggy-ness) is actually toasting the English muffins, not just warming or slightly toasting them. Also, if anyone tells you that poaching eggs is easy, they are lying to you. It probably took me a few dozen eggs to finally successfully poach an egg and not just have the yolk left over. But, practice makes perfect! I also do not put any vinegar in my water, but I hear people swear by that, so do what works for you.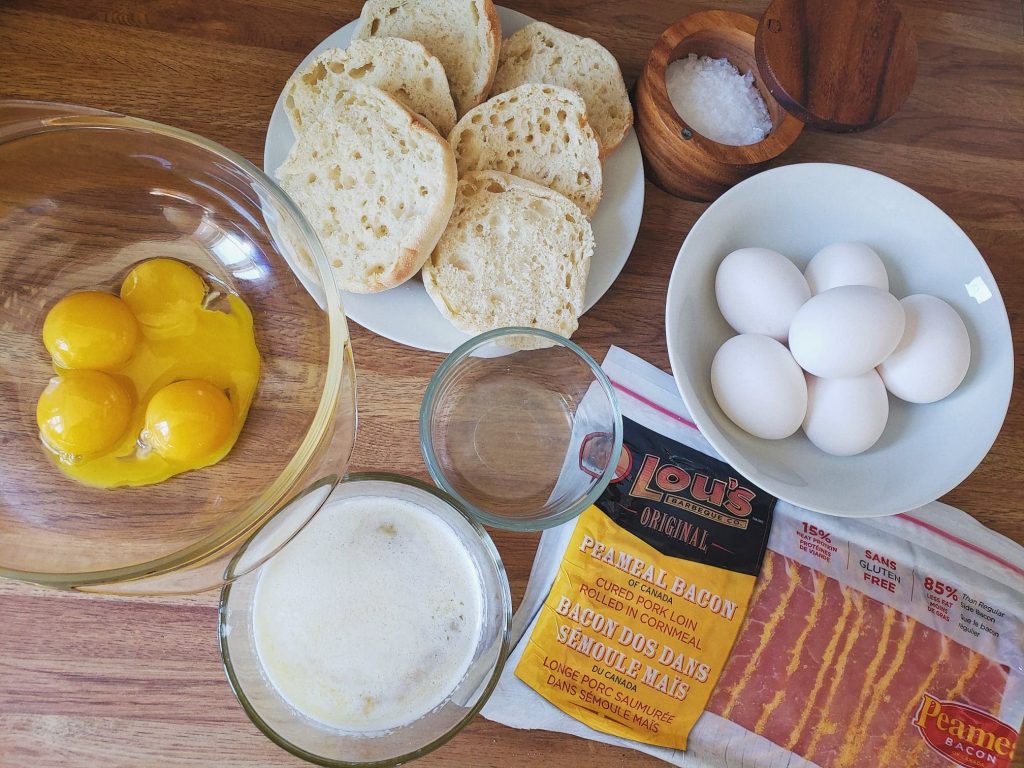 This recipe is perfect for trying to impress that special someone, converting someone into an eggs benny lover, spoiling your family or treating yourself. Serve it with a fresh salad, tomatoes and cucumber, home fries or bottomless mimosas. Try it out and let me know what you think!!
Cheers!
xx Vassilia
Eggs Benedict
Course: Breakfast
Ingredients
6 eggs

3 English muffins, halved and toasted

6 slices peameal (back) bacon

1 tbls olive oil

Fresh cracked pepper for seasoning

Pinch of paprika for garnish (optional)

For the Hollandaise Sauce

4 egg yolks

½ cup butter, melted

1 tbls lemon juice

Pinch of salt

Pinch of cayenne pepper (optional)
Directions
For the Hollandaise Sauce
In a heat proof bowl, whisk the egg yolks and lemon juice until frothy and doubled in size.
While whisking, slightly heat the egg yolk mixture by placing it on top of a pan with simmering water (creating a double boiler). Be sure the simmering water does not touch the bowl, as you do not want to overheat the eggs – they will scramble if this happens.
Slowly add the melted butter while continually whisking. Keep whisking until the mixture becomes thickened.
Add pinch of salt and cayenne pepper (optional) to season.
Place in a warm spot, covered with plastic wrap (flush to the surface) until ready to use.
For the Eggs Benedict
In a pan, heat olive oil and pan fry the peameal bacon until browned. Season with fresh cracked pepper.
Poach the eggs in a pot of simmering water.
While poaching eggs, toast and butter the English muffin halves.
Assemble the Eggs Benedict: one piece of peameal bacon, one poached egg, hollandaise sauce.
Garnish with a pinch of paprika (optional).
Notes
You can store the hollandaise sauce for up to 2 days in the fridge. Be sure to cover with plastic wrap in a sealed container. When reheating, add some water.