Hello again fellow foodies!! It has been some time since I've posted anything on my blog. I guess I took my own advice – for once – and really tried to remain present and enjoy the last couple months of summer and the beautiful weather we were blessed with. I also started back to work (hooray for a routine again!!). But alas, the fall weather has arrived and with it comes warm, cozy sweaters, pumpkin spiced lattes and cuddles (something I am actually very pleased about). I personally love fall — it is my favourite season. There is just so much to love about it: cool sweater weather, Thanksgiving, changing of the leaves, apple and pumpkin picking, and lots of orange everywhere!! It also means more time in the kitchen whippin' up delicious and hearty fall menu items. Thus, insert butternut squash filled ravioli in a butter cream sage sauce.

This dish is sooo rewarding because everything is made from scratch! I think I definitely gained some arm muscles from rolling out this dough suuuper thin for 30 minutes because I couldn't find the pasta maker. But the sweat and tears were worth it once I saw the perfect pillows of ravioli.
The filling is such a rich flavour that compliments the butter sage cream sauce. This dish is absolutely the way to someone's heart and if they don't agree that just means they don't have a heart!! Try it out and let me know what you think.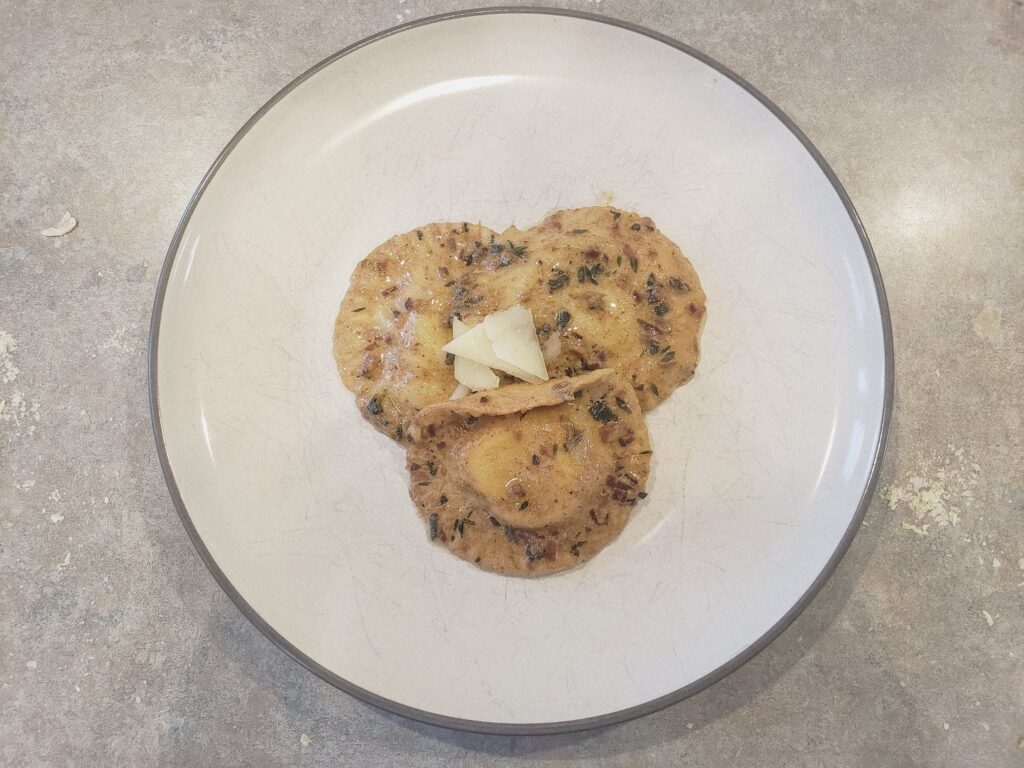 Cheers!
xx Vassilia
Butternut Squash Ravioli in a Butter Cream Sage Sauce
Course: Main
Ingredients
For the Ravioli Dough

8 large eggs

6 cups flour + more

1 tsp olive oil

Pinch of salt and pepper

For the Filling

1 med sized butternut squash

2 small shallots, chopped

1 clove garlic, minced

1 tsp chopped fresh sage

1 tsp chopped fresh thyme

2 tbls unsalted butter

2 tbls olive oil

¼ cup shredded parmesan Reggiano cheese

Salt and pepper to taste

For the Sauce

1 cup unsalted butter

1 medium shallot, chopped

1 clove garlic, minced

2 stems fresh sage

2 stems fresh thyme

½ cup chicken stock

¼ cup white wine

½ cup cream (18% or 35%)
Directions
For the Ravioli Dough
Measure out 6 cups of all-purpose flour and make a well in the centre (you can also use 00 flour)
Crack all 8 eggs inside the well
Add the olive oil and pinch of salt and pepper
Beat eggs inside well and slowly begin to incorporate the flour
Knead dough until a smooth texture (if doing this by hand, it will take about 30 minutes). You might need to add more flour if the dough is still sticky. Add ¼ cup at a time.
Roll out the dough until very thin – You should be able to see through the dough. (If doing this by hand, it will take about 30 minutes // If you are using a pasta maker, run dough through machine until 7 on the dial)
Cut out circles from the dough and set aside for filling
For the Filling
Preheat oven to 400°
Cut the butternut squash in half, scoop out seeds, and place on a tray
Fork the squash and season with salt and pepper and some water
Bake for 1hr until soft
Once cooled, remove skin and smash squash in a bowl. Set aside.
In a pan over medium high heat, add butter and oil and sauté shallots and garlic. Add fresh herbs and continue to cook for 1 minute
Remove from heat and add to squash
Puree mixture with a handheld blender
Stir in cheese and season with salt and pepper to taste
Fill each pasta circle with 1 tablespoon of filling. Place another circle on top and fork down the edges.
Cook ravioli in boiling water for 5 minutes or until al dente
For the Sauce
In a large pan, heat butter and sauté shallots and garlic
Add fresh herbs and continue to cook, about 1 min
Add chicken stock and wine and deglaze the pan. Cook for 2 min.
Add cream and reduce, about 5 min (if you use 18% cream, the sauce will be less thick than 35% cream)
Add ravioli to sauce and gently toss
Serve with Parmesan cheese