Do you ever buy a bunch of bananas and then near the end of the week realize you only ate a few and now the rest are getting super brown? So, you start to throw some into smoothies, or you attempt to make banana bread. But still there seems to be one or 2 left over? It's like when you need a banana you never have any but when you don't want a banana they are always there? Maybe that's just me? Well I have found the solution to the endless brown bananas in my kitchen: Banana Oat Pancakes. Now, I am pretty sure I am the only human on this planet that isn't the biggest fan of normal pancakes. I just find them way too heavy or too sweet. Don't get me wrong, if I am going to a brunch place and they are known for their pancakes then you best believe I will order them (check out these pancakes from School Resto, a cute little brunch place in Toronto), but then I am usually satisfied for like a year.
So, I wanted a replacement for when I get that pancake craving but don't want the associated stomach-ache. These banana oat pancakes do the trick and on the plus side, they're not half bad for you. I usually sneak in some chocolate chips to feed my inner kid, but that is totally optional. Top them off with some fresh blueberries, walnuts and a drizzle of pure maple syrup, there's no way your day can be bad starting off with these delicious pancakes.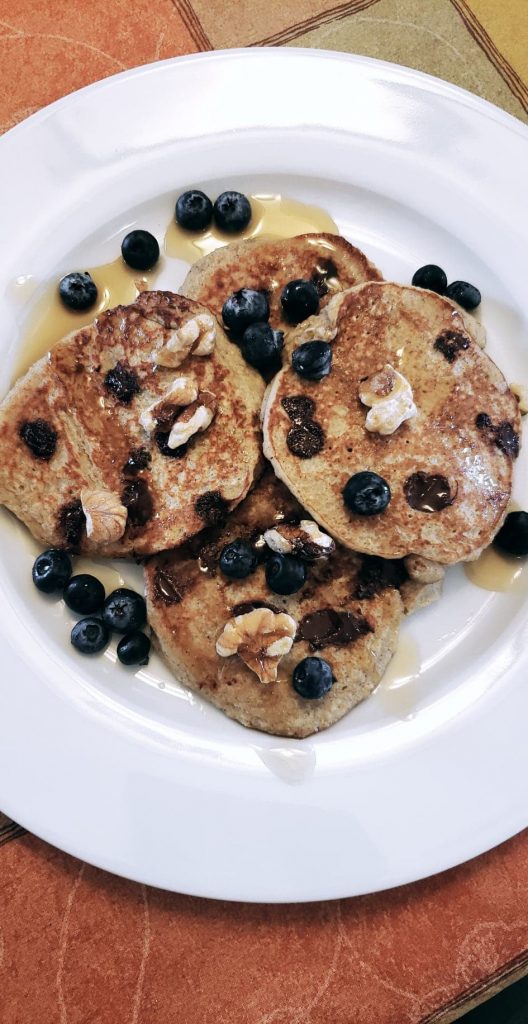 Cheers!
xx Vassilia
Banana Oat Pancakes
Course: Breakfast
Ingredients
1 ripe banana

1 egg

¼ cup quick oats

¼ tsp baking powder

Pinch of salt

1/8 tsp cinnamon

1 tsp peanut butter

2 tsp all-purpose flour

2 tsp coconut oil

Handful of chocolate chips (optional)

Fresh blueberries for serving (optional)

Walnuts for serving (optional)

Pure maple syrup to serve (optional)
Directions
In a blender, combine the peeled banana, egg, oats, baking powder, salt, cinnamon, and peanut butter.
Blend until the mixture is smooth.
Stir in the flour and allow mixture to sit for 10 minutes until slightly thickened.
In a frying pan, melt coconut oil and fry 2 tablespoons of the batter until golden on both sides. At this step, you can add the chocolate chips to the pancakes before flipping.
Serve with a drizzle of pure maple syrup, walnuts, and fresh blueberries.